One of my favorites is 'Old Holborn', a very witty and humorous writer. I hope you enjoy them as much as I do.


You can stick your CCTV, Police State, wheelie bin Stasi, DNA, WMD, "Social Cohesion", benefits for all, guilty until proved innocent, don't do that it's illegal now, can't say that, ID cards for all, where are you going, what have you been saying/doing/reading, can't photograph that, how very dare you, golliwog banning, we know where you live, we're watching you Soviet Utopia up your arses. Sideways.

I am still amazed how many politicians are still screaming that social media is to blame for the various reactions to the society they created. From welfare addicts who decided they weren't get enough danegeld and needed to loot shops to the Chinese State cutting off Facebook and Twitter to stop their citizens talking to each other.

Of course, our own Louise Mensch MP is demanding that she should control when we are allowed to speak to each other via mobile phones and the general consensus from those who would rule us is

You may talk to each other, when WE allow it. It is not a right, it is a privilege


With the original invention of the printing press, the matrix rippled. Our media is still "licenced" by those who impose their laws upon us. Huge state quangos exist to make sure we are not talking too much, saying too much, criticising too much and whilst we pretend to have the freedom of speech, our citizens are now jailed for posting on Facebook.

I'm currently planning to flee the UK and set up shop in a country where Politicians are accepted as corrupt, make no bones about being corrupt and in return for 10% taxation (flat) leave the public alone. Nothing is expected from them and duly, very little is given to them.

There is no "welfare" system to speak of, and in return, people make their own arrangements for healthcare. Family bonds are strong because the State is weak. People are left alone, to live their lives in peace, as they see fit.

In all honesty, you won't even know I've gone. Most of my friendships these days are online. Long gone are the days where I tolerated going to boring "dinner parties" where I was forced to listen to some consumerist bragging about his golf skills or his BMW because his wife worked in the same office as my wife. Nope, I talk and converse and consume my information from my "networks".

I read my news where I choose to read my news, regardless of whether OFCOM thinks I should. I watch TV from the country of my choice via the Internet. I chat with people I find interesting or engaging, 24 hours a day, regardless of their location. My work allows me to be based anywhere in Europe. All I need is a phone and an internet connection. My clients care not one jot that my telephone number is UK based and I am not (see Vonage). They care not that I don't have an office in the City of London.

The control of media by the State meant something when the State meant something. Put simply, it doesn't anymore. If I don't like your rules and regulations, I can move. I can take my wealth, my assets, my business anywhere I choose. I am no longer bound by "locality" because I no longer "live" locally. I live on the Internet. I buy from the internet, not Globalist out of town shopping centres. I source what I require from those who supply what I require, not what a Corporation that dictates what I may purchase. I am not beholden to fashion or marketing or upgrades. I am not enslaved to banks because I OWN my properties. My dependence on "credit" is zero because I do not crave shiny things.

So, my views are similar to millions of people I have never and will never meet in "the real world", yet I can freely mix them, converse with them, cooperate with them, buy and sell from them, and interact with them, in real time. We have similar beliefs and similar values, similar outlooks on life, similar goals and similar minds.

Conclusions

The Political Party is dead – no longer needed.
The State is dying – petty borders mean nothing to my life anymore
The digital individual is taking control of his life – "not who is going to let me, but who is going to stop me?"


Whilst our elites believe they built and control the Matrix, and for a while, they did – with licences, D notices, censorship. All of us, just by being online and talking to each other have proved they are no longer in control of any of us. And I have no need to talk or listen to the opinions of those who assume they know better than me how to live my life. Like town criers bellowing in the market place, they are no longer relevant to any of us.

The real revolution begins when you stop listening to them.





EarthsAngel

Admin





Posts

: 1685


Join date

: 2010-01-25


Location

: District 9



I believe that one of the key factors in the "hell in a handcart" decline of the UK is the absence of a justice system that punishes a criminal. There are too many instances to mention (except this one, which has me spitting teeth) and I don't see any real chance of anything changing. Decent law abiding citizens will continue to be raped, mugged, stabbed, beaten, set fire to and burgled by an ever growing underclass of amoral thugs until they have everything they want. The Police are not interested in stopping it, the Gummint are not interested in stopping it, large swathes of pen pushing Righteous are not interested in stopping it.
I am interested in stopping it.
So I want to start a campaign that will simply scare the fucking SHITE out of all of the above. This is your cut out and keep guide to protecting you, your loved ones and your hard earned property. It will cost you some money and it may cause you a little concern, but I believe it would work.
Step ONE.
Buy a gunsafe. Basically a metal cabinet that is lockable and bolted to the floor. £100.
Step TWO
Apply for a shotgun licence. You will need to do this online via your local Police Force. Mine is Essex. You will need to find one person to sign your form who knows you and some photos.
Guidance HERE
Step THREE
A man will come to your house and check your application, look at your gunsafe to make sure it is secure.
Step FOUR
Buy a shotgun and some ammunition, put it in your gunsafe. (£250)
Step FIVE
Put this in your front window.

If MILLIONS of us were armed with a simple shotgun, burglary would plummet over night. Feral thugs would have to risk their very existences every time they decide to kick someone to death for objecting to them pissing up their car. The 646 shaved baboons in Gummint would think twice about treating the common man with such utter contempt. We would, in effect, become empowered.
A shotgun in YOUR house will give you back some of the power that the State has taken away from you. You need never load it or fire it. Just owning one will send a very loud message to ALL the cunts out there who want to fuck with you that you will not take it lightly anymore. You have a means of defence. You can and will defend you and yours with lethal force if required. It will also tell the Police that you have had enough of staring down the barrels of criminals guns and are now happy for criminals to stare down YOUR legally held barrels for a change.
This is not a scam and certainly not a joke. Farqham Hall is now ARMED.

EarthsAngel

Admin





Posts

: 1685


Join date

: 2010-01-25


Location

: District 9




EarthsAngel

Admin





Posts

: 1685


Join date

: 2010-01-25


Location

: District 9



Leanne, the second moon of Saturn, in orbit around a fish and chip shop
I've been pondering as to whether to vent my spleen at this one and have decided, upon reflection, that the world would be a much, much better place if I did.
Let us, in our so called civilised society take a close look at the dark side (literally).
In this land of plenty, where a great deal of us are nothing more than bonded serfs paying over half of what we earn to our masters in return for, I don't know what, it warms the cockles of my cold iron heart to know that our great advances have achieved a new creation of horror.
The single land whale with three bastard Halflings.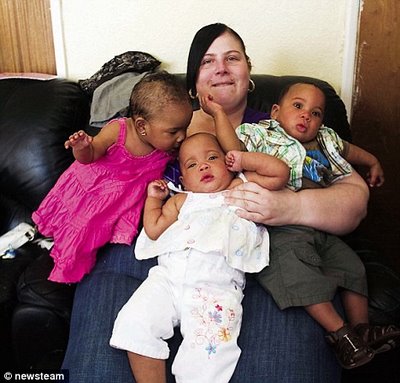 Stunning. 40 fucking stone of pure ignorance, selfishness, greed and sloth. I give you Leanne Salt, a product of Welfarism and New Labour.
A quick fling with Winston Mbeke Banana (the bastard) who fled after four weeks (probably finally got her off him), a £200,000 NHS bill and the rest of us get to feed her triplets McDonalds at six weeks old.
And she now wants her own council house: 'I know how to microwave a meal and make up instant mash, so I think we'd all manage.'
She receives total benefits of £227 a week - £140 tax credit, £42 child benefit and £45 family allowance - which she spends on her ten-a-day cigarette habit and food. I'm so happy, I intend to pay for her transport to Mexico (and yes, you would need to charter a Hercules) for some fresh air and a tonne of nachos.

EarthsAngel

Admin





Posts

: 1685


Join date

: 2010-01-25


Location

: District 9



The British State and its Broken Moral Authority
There are two types of governance that of force or fear and that of moral authority. Terror is widely employed within repressive states. Governance in any democratic country is built on the idea of moral authority. Wiktionary defines this as "The quality or characteristic of being respected for having good character or knowledge, especially as a source of guidance or an exemplar of proper conduct." In simple terms it means that the people of a country that elect a government grant them temporarily their authority to enact laws over them. It could also be described as governance by persuasion. In all states whether those governed by force or those by moral authority government can only continue whilst the public consent to submit to either of these principals. Once a community refuses to acquiesce either by losing their fear of the force arrayed against them in an autocratic state or a government's loss of moral authority in a democratic state then the writing is on the wall.
Edmund Burke
Democratic states which lose their moral authority resort to force in order to preserve them. As moral authority diminishes there is an ever greater temptation for elected governments to engage in escalating acts of aggression against their people. In so doing they emulate the oppressive states that use force to maintain them. They fail to realize as Mahatma Ghandi observed, "Moral authority is never retained by any attempt to hold on to it. It comes without seeking and is retained without effort." As we have seen following the riots the state has resorted to the threat of force i.e. the use of plastic bullets and water canon in England to maintain itself. Currently it hasn't done so though for how much longer that will continue is anyone's guess. As Edmund Burke anticipated, "Among a people generally corrupt, Liberty cannot long exist." In this case I would apply this to the British Establishment which exists as a caste outside of the rest of society.
John Adams
In democracies when governments lose moral authority an election would normally follow shortly afterwards. This acts as a safety valve maintaining the overall state intact which is not available to autocratic countries where one party or person is the basis of it. In these pressure builds up until eventually the state collapses in its entirety leaving behind a failed state or is fundamentally altered by revolution. The British State although being democratic finds itself in a similar position to that of autocratic ones. British Parliamentarians are viewed to a greater or lesser extent as one entity by an overwhelming majority of the population which can be equated to that in non democratic states. Although this existed before it is also one of the repercussions of the expenses scandal. British MPs who had embezzled state funds were allowed to walk free from criminal conviction with the collusion of other parts of the establishment and the prosecuting authorities. Since members of all political parties were equally culpable they are a discredited class with the idea of them being of good character and therefore having any moral authority shattered. It is not just government that has lost its moral authority it is the state itself. To quote John Adams, "Remember, democracy never lasts long. It soon wastes, exhausts, and murders itself. There is never a democracy that did not commit suicide."
This situation has been compounded by the interaction between press, police and parliamentarians as evidenced by the hacking scandal. Allegations that officers were taking cash from journalists to furnish them with information have undermined the police. We do not yet know how widespread this has been but the overall impression is of corruption within the police. Sir Paul Stephenson should come in for particular opprobrium. This is a man who whilst earning approximate £228,000 pa then decided he was entitled to accept a stay in a spa worth some £12,000 when his own officers could not legally have done the same. When this was revealed and he resigned he managed to say with a straight face and no irony, "I leave with my honour intact." Like politicians in the expenses scandal there is disrespect not only for the law but the spirit of the law that has communicated itself to whole rafts of English society. The overall impression of an arrogant elite consumed by the belief that the laws they enact and enforce apply to everyone but them. This is a dangerous imbalance that cannot be corrected by those who have proven themselves to be part of the contagion of corruption that I have spoken about in previous posts. To all sections of that British Establishment, "Moral authority has been laid to rest," public, "opinion is no more than a game show and the difference between good and evil is about as relevant as changing channels." Ralph Steadman.
The effects of this elites ability to flout the law with impunity and cover up their crimes with each others collusion has been brought into stark public view by the riots. British Politicians are now scrambling to find answers or explanations as to why this happened. The one thing they will not acknowledge is that they are part of the problem. Their colleagues past and present are SOLELY responsible for this sorry state of affairs. Their corrupt and morally delinquent behaviour added to the inept policies they have pursued over decades have been the harbingers of the moral collapse of society.

EarthsAngel

Admin





Posts

: 1685


Join date

: 2010-01-25


Location

: District 9



Old_Holborn

12.6 MILLION people watched the X Factor. We have now reached the end game in the human race. Buy seeds and head for the hills




EarthsAngel

Admin





Posts

: 1685


Join date

: 2010-01-25


Location

: District 9



A Quiet Sunday WHEDFU
I like quiet & peaceful Sundays; it's the way life's supposed to be. Away from work and politics, blue sky, low sun - it's lovely, and such a change from yesterday's downpour.

One son went to the opera for the second time in a fortnight (yes, I know, but there's a girl involved) telling me it was based on a Shakespeare play about two lesbians by "Giacomo Somebody-or other". It turns out it was Mozart's Cosi Fan Tutte (boy, is he going to be disappointed). Another son is whizz-kidding his way around computers and is so engrossed that I only see him when the kettle boils for tea or the smell of cooking emanates from the kitchen.

I'm probably not alone in noticing how the front pages of the papers are reporting on Libya, Syria, Egypt and the Middle East in general lately with our own domestic politics largely confined to the inside pages or smaller front page paragraphs. Even NewsnetScotland is taken up with Libya and al-Megrahi and Germany and France have the same problems.

All the topics in the British media are presented as little things but they add up to a greater whole: the British Bill of Rights; closing down media comms; ACPO; troughing on a grand scale; the NHS; state education; the police force; the welfare state. They're all separate articles or reports but what they add up to is a grand re-organisation of our country's infrastructure along the lines of the EU-preferred model. It will be a shake-up of our politics but a shake-down for us.

Have a look at THIS front page of the EUISS, for example.

The European Union Institute for Security Studies (EUISS) is an agency of the European Union. It operates under the Union's Common Foreign and Security Policy (CFSP). The EUISS is an autonomous agency with full intellectual freedom. As a think tank it researches security issues of relevance for the EU and provides a forum for debate. In its capacity as an EU agency, it also offers analyses and forecasting to the High Representative for Foreign Affairs and Security Policy.

I've obviously had a mis-spent youth; I thought that 'autonomous' meant independent or self-contained rather than beholden to another institution for funds and patronage.

I've been waiting patiently for more than a year for BrusselsLeaks to get its act together but, apart from a tantalising message in March this year that they were "coming soon", there's been nothing. I wonder why.

Turkish airstrikes on Northern Iraq are continuing but aren't mentioned. Perhaps the Kurds aren't as important as Bono, Bercow and Bieber.

Bulgaria, a member of the EU since 2007, also has its problems. Its biggest oil company hasn't been paying its taxes. No surprises really: globalised corporations = globalised scams.

Instead of getting their own house in order the EU is considering banning the import of Syrian oil . Nose, face, spite, cut.

In England, which doesn't officially exist any more, the government and the Crown Estate have attempted to downplay concerns about its investment in the UK's fledgling offshore wind industry, after plans to build a giant 10MW turbine in Newcastle were this week shelved. I'd like to think this was because the govt realise that climate change and its taxes were a pox on the people but, sadly, I don't think it is. There's no investment in our country, no manufacturing and only the financial services sector keeping us afloat at the moment. We're going down.

As for Cameron sorting out the Human Rights Act as founder signatories of the ECHR and working from 'within Europe', I have as much faith in that as in the scientists who think aliens will blast us out of the universe because our carbon emissions are threatening the planet.

There's something nasty in the woodshed and it's about time we went in with a pitchfork to uncover the truth. Our government can't be allowed to continue down this path; if it does, we will see the end of this country as a sovereign nation openly acknowledged in the media and, when that happens, it will be too late for anything other than violence - and I'm not talking #London riots. No wonder they're looking at more powers to restrain freedom of speech and freedom of association with a 'new & shiny' Bill of Rights. Don't trust them.


EarthsAngel

Admin





Posts

: 1685


Join date

: 2010-01-25


Location

: District 9



Shrub Monkey's **** of the Day

Trawling the daily news to find you the person most worthy of being awarded Shrub Monkey's prestigious **** of the Day.
**** of the Week - Tony Blair
User Rating: / 16
PoorBest

Tony Blair is this week's **** of the Week.

You would be forgiven for thinking that Blair was running for office or had a book coming out considering how much he has been in the news this week. The message about him taking his truly foul wife and fucking off once and for all evidently hasn't been getting through to him.

Earlier this week we learned how he became godfather to one of evil Rupert Murdoch's offspring in a bizarre, white robed ceremony on the banks of the river Jordan; this week he has also been keen to deny secret renditions took place on his watch; he has also chosen this week, the 10th anniversary of 9/11 to spout off about how he immediately knew 9/11 changed everything whilst defending the UK's response to terror and calling for yet more war in demanding a regime change in Iran. Matthew Norman in the Telegraph has written an interesting piece summing up Blair's insatiable ego, saying Blair proves that God has a sense of humour.

There is, quite simply, no stopping this man. His recent attempts to intervene, even commenting on the UK riots, smell reek of a desire to shape history to put him in a better light whilst conveniently overlooking the fact that many people consider him to be a mass murdering war criminal who has repeatedly lied about practically everything, including the reasons for invading Iraq.

Fuck Blair. Seriously, fuck him! He needs to take a minute to contemplate that he might just have been in the wrong, take a moment to consider that some of the worst things that have been said about him might actually hold some truth.

That he is a **** is an absolute given, but this week his self serving words and actions have made him a perfect candidate for **** of the Week.
Add new comment


EarthsAngel

Admin





Posts

: 1685


Join date

: 2010-01-25


Location

: District 9





Similar topics
---
Permissions in this forum:
You
cannot
reply to topics in this forum