At least 32 people were killed yesterday after torrential rain caused mudslides on the Portuguese island of Madeira.
Officials last night said they feared the death toll could rise far higher as emergency efforts were hampered by fierce winds and continuing downpours.
Some 68 people also needed hospital treatment as houses were torn down, trees uprooted and cars overturned.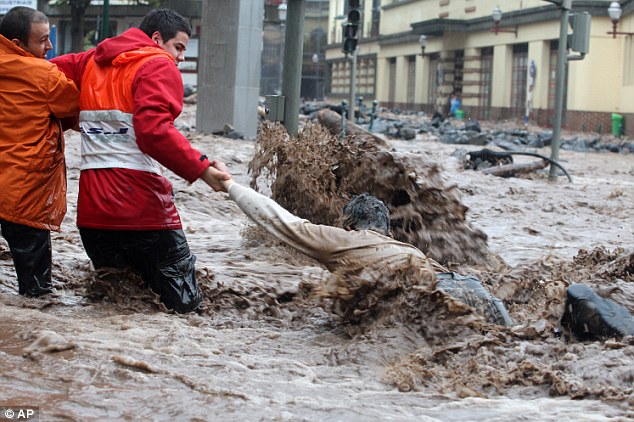 Madeira is popular with wealthy British tourists, but the Foreign Office said it had not received any reports of Britons among the dead or injured.
A spokesman for the Foreign Office said: 'We have not received reports of British casualties or injuries, consular staff are monitoring the situation and stand ready to provide assistance.'
TV footage showed torrents of fast-moving, mud-filled water tearing through the streets of the capital Funchal, dragging cars and nearly sweeping away two policemen.
Parts of the Atlantic island were isolated by blocked roads and downed bridges as winds reached 70mph early yesterday. Electricity and phone links were also cut.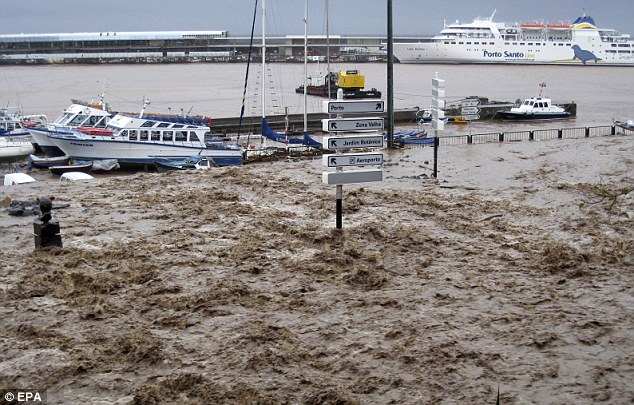 British holidaymaker Cathy Sayers said: 'The place is like a ghost town. The drains just cannot cope with the water that's coming down from the mountains – they are just overfilled with sludge.'
'There wasn't really any warning, particularly any warning that it would be quite so bad because it is exceptional for this island.'
Ricardo Macedo, a rep for Bournemouth tour operator Palmair, said: 'There's a Dunkirk spirit in Funchal. As far as I know all 93 of my clients are safe. Most of Funchal is without fresh water.'
The Portuguese government is considering whether to declare a state of emergency in the region.
'We're overwhelmed by calls from people asking for help after the torrential rains,' a duty officer at the civil protection service said.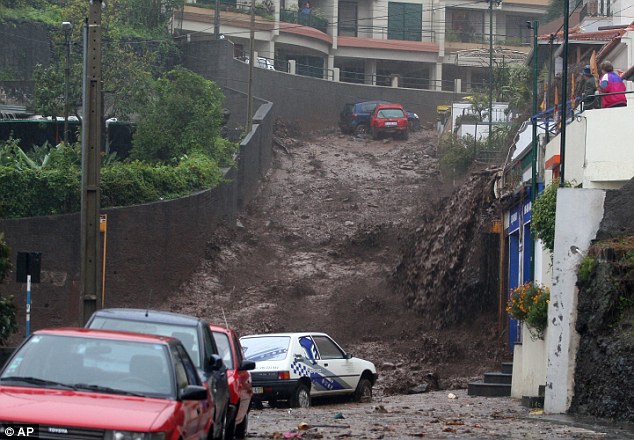 The island is a popular holiday destination for British tourists, which is located 560 miles southwest of the Portuguese mainland.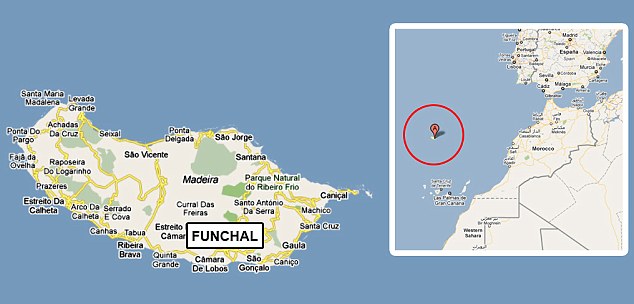 British tourists have been advised to stay in their hotels as a safety precaution, tour operators said today.
A spokesman for travel watchdog Abta said: 'There are British holidaymakers on Madeira. We don't know how many at the moment but we do not believe it is a large amount.
'They are being advised to stay in their hotels. Representatives from tour operators are in the process of trying to visit them.'
He added that there was no current plan to move the tourists off the island.
Madeira is the main island of a Portuguese archipelago of the same name, in the Atlantic off the northwest coast of Africa.

Chelseaboy

Angels





Posts

: 204


Join date

: 2010-01-26


Location

: Top of the league



jeez how scary, so sad...x

xtras




Posts

: 363


Join date

: 2010-01-26


Location

: Wherever You Want me......



This is a bloody tragedy, Madeira is a gem of an island in the middle of the atlantic, the people are lovely and so is the place,I love it and try to go once a year, this will take ages to sort out as well.


Guest

Guest






Dame Edna




Posts

: 641


Join date

: 2010-01-28


Age

: 66


Location

: Deep space 9.



Really tragic, I know people from Madeira, they really are lovely warm and friendly people, they all have family there, I hope and pray they are safe.

EarthsAngel

Admin





Posts

: 1685


Join date

: 2010-01-25


Location

: District 9



I have seen some of the aftermath footage this afternoon and it's bloody terrible, that beautiful island is wrecked



Guest

Guest






---
Permissions in this forum:
You
cannot
reply to topics in this forum