This is Albert and Kath Adams who died after their home was set ablaze by thugs when they torched a mobility scooter parked in their porch.
The couple, both keen lawn bowls players, were asleep in their house in Rugby, Warwickshire, when the fire broke out at 2.50am on Saturday.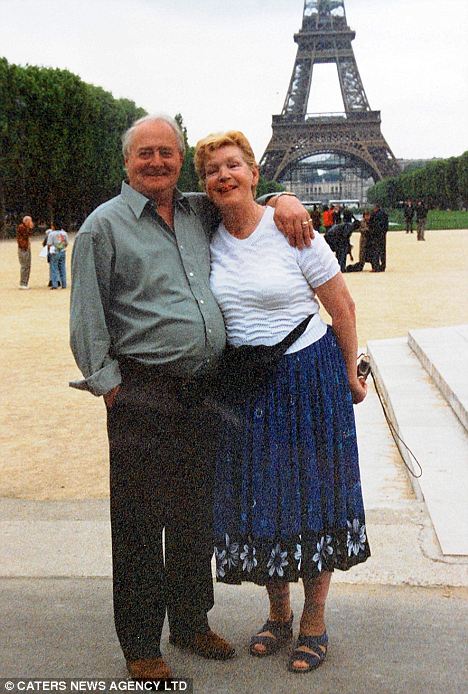 It is believed they became trapped in the burning building after the yobs, who the couple had previously challenged over loutish behaviour, returned for revenge.
The front of their two bedroom bungalow was engulfed in flames when highly flammable oils stored in the porch next to Albert's scooter caught light, filling the house with smoke. It was Kath who called the emergency services.
The couple were rescued by firefighters and taken to Coventry's University Hospital suffering from severe smoke inhalation but Mr Adams died hours later.
His wife, who was in a critical condition, died 24 hours later yesterday afternoon.
Minutes before she died, Kath asked if she was going to be near her beloved husband Albert without realising he was already dead.
She told her sister-in-law Maureen Jones in hopital she would feel safe if she could be by his side, before she slipped away.
'In hospital, after being rescued from the fire, Kath asked me, "Am I going to the ward to see Jamie?" That was his middle name and her pet name for him.
'Then she said, "I will be alright if I can be near him." Ten minutes later, she sadly died.'
She said of her brother 'he was the most dependable and loving man you could ever hope to meet'.
"When we lost our son, David, in car accident when he was 18 Albert and Kath didn't leave our side for weeks,' said Mrs Jones.
;Albert was the head of the family, a real father-figure for his four sisters.'
Police believe the same gang struck again this morning at 1.28am, using the same method - but this time outside a different house just yards away.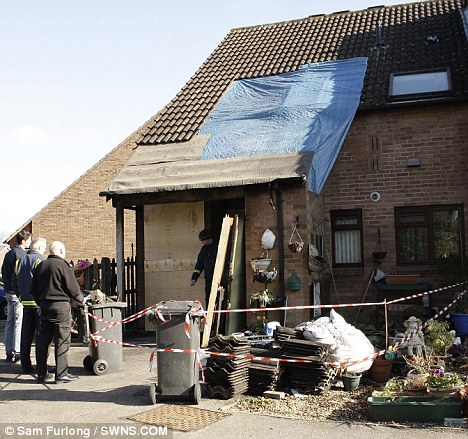 Luckily this couple, in their 90s, managed to escape.
A spokesman for Warwickshire Police confirmed the force thought the fire attacks were linked.
He said: 'Police are now treating both incidents as arson and believe that they may be connected.'
The street where Mr and Mrs Adams live is home to 34 pensioners living in sheltered housing which is staffed by wardens.
However, neighbours say the area has been targeted by yobs in recent weeks.
Some residents claim the couple had previously stood up to a gang of teenagers for playing loud music and threatening elderly residents.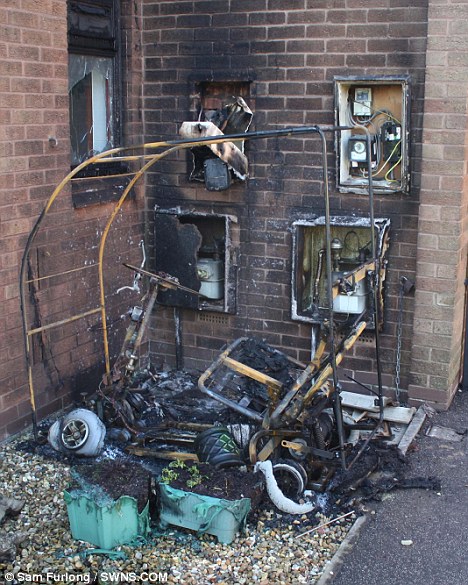 A neighbour in her 80s paid tribute to Mr and Mrs Adams, saying they tried to address the problem: 'Kath and Albert were not the type of people to stand for it. They tried to tackle the yobs but they just got verbally abused by them.'
It has emerged today that both Kath and Albert were lawn bowls stars.
Mrs Adams was crowned National Women's Champion in 1995 several years after she started bowling with husband Albert, a former tractor fitter.
But Albert developed severe asthma five years ago and needed his £2,000 electric scooter to play bowls and get around their bungalow and the streets of Rugby.
Yvonne Bromfield, president of Rugby Thornfield Indoor Bowls Club Ladies Team where Kath played, paid tribute to a 'devoted couple'.
She said: 'Everybody is in a state of utter shock. Kath and Albert were such a lovely, devoted couple who made the most of life.
'Kath was a brilliant bowler who had won dozens of trophies over the years. Albert loved the game too, but slowed down when he became ill.
'How anybody can do this is beyond me. It's such a tragic waste of life.'
Neighbour John Corras, 79, said: 'We've never had any problems like this before. It's usually such a peaceful area.
'A lot of people are terrified, thinking that they could be next. It's disgusting that anybody would do something like that on purpose.
'Somebody has obviously got a grudge against mobility scooters and us old folk. There are so many people in the area who are retired and need them to get around.'
Steven Shanahan, the head of housing at Rugby Borough Council who manages the pensioners' sheltered accommodation, said: 'We're still trying to find out the exact details of what happened.
'In the mean time we would like to reassure neighbours that we are working to resolve any problems. It's a police investigation so at this stage we can't say much more.
How many more desperate stories must we read bout the despicable young kids on our streets today

New labour and the liberal left elitist arseholes make me sick, they have turned this country into a cesspit.

Chelseaboy

Angels





Posts

: 204


Join date

: 2010-01-26


Location

: Top of the league



What a sad, sad story, to get to that age and be murdered by scum, I hope they catch the bastards who did this, but they will probably get 6 months in a holiday camp.

These mongrel scum should have no right to life, they contribute nothing to society, they are a threat to decent society. I would love to see them mowed down in the streets. They are nothing more than sewer rats!

EarthsAngel

Admin





Posts

: 1685


Join date

: 2010-01-25


Location

: District 9



What the hell has Britain come to?! Two pensioners protect their mobility scooter and their house is torched in revenge?! WTF?!!!!!!

Enough is enough! I'm sick and tired of reading about crime ridden Britain!

The fucking evil bastards responsible need to be found and fucking hanged!

El Guapo

Admin





Posts

: 2176


Join date

: 2010-01-25


Age

: 41


Location

: Seated in front of PC



Why are these scummy yobs allowed to terrorize decent people? They should be shot where they stand, filthy vermin is all they are. When are the cops going to rid the streets of these low life, good for absolutely nothing scumbags? When are the people going to use their voices to say 'Enough' and demand that the Government address this huge problem.
In South Africa, their sort are quickly dealt with, often permanently....they just seem to fall off the face of the earth, never to bother decent people again....magic!


EarthsAngel

Admin





Posts

: 1685


Join date

: 2010-01-25


Location

: District 9




---
Permissions in this forum:
You
cannot
reply to topics in this forum