French to ban Muslim women from wearing veil
The French government is drawing up a law to ban Muslim women from wearing a full-face veil in public, despite advice that it could be illegal.
Published: 4:38PM BST 21 Apr 2010
France to ban veil
Around 2,000 Muslim women in France wear a veil in pubic Photo: REUTERS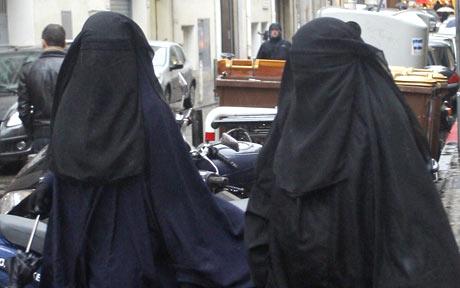 The new law will stop the niqab and the burka from being worn in the streets, shops and markets and not just in public buildings.
Nicolas Sarkozy is to press ahead with the bill claiming that the veil is an "assault on women's dignity".
Why the burka is part of Britain
"We're legislating for the future. Wearing a full veil is a sign of a community closing in on itself and of a rejection of our values," Luc Chatel, a spokesman for Mr Sarkozy, on leaving a cabinet meeting led by the President.
Last month, the State Council – France's top administrative authority – warned Mr Sarkozy against a full ban on the veil, suggesting instead an order that women uncover their faces for identity checks or for state business.
It suggested a full ban could be declared unconstitutional and overturned in court.
However, there remains broad support in parliament for such a ban and the government is determined to press on with a law, which it says would affect only around 2,000 Muslim French women who currently cover their faces.
Most Muslim women, in France's immigrant communities and around the world, do not wear a full veil, but the niqab, which covers the face apart from the eyes, is widely worn on the Arabian peninsula and in the Gulf states.
The burka, a shapeless full-body cloak that covers the face with a fabric grille, is worn in some areas of Pakistan and Afghanistan.
Muslim scholars differ in their interpretation of the Koran's rules on what constitutes modest dress, and many argue that veils are a cultural tradition rather than a religious obligation.
In France, the garments are widely identified with fundamentalist strains of Islam and with the isolation and repression of women in some communities, and politicians accuse radical clerics of promoting their use.
"We're not going to let this phenomenon drift," Mr Chatel said.
France's neighbour Belgium is also preparing legislation, and could become the first European country to ban the full veil when a bill goes before parliament on Thursday.
In France the idea of banning the veil has won support from across the political spectrum.
"I've always been convinced that we can forbid covering your face in public in general," said Communist lawmaker Andre Gerin, welcoming a decision he said would help "engage a dialogue with all Muslims".
North African militants with ties to al-Qaeda have threatened attacks on French interests if the law is passed, and US President Barack Obama has made it clear he does not support Europe's planned bans.

EarthsAngel

Admin





Posts

: 1685


Join date

: 2010-01-25


Location

: District 9



Hideous! We know that woman not wearing the Hijab are responsible for earthquakes, tsunamis, volcano's erupting etc. The clerics have said so, it must be true lol!! I cringe when I see woman in those hideous getups! They should be banned worldwide IMO. Woman are more than equal to men, they should not be forced to cover their faces.

EarthsAngel

Admin





Posts

: 1685


Join date

: 2010-01-25


Location

: District 9



Not only does the hijab and the burka look stupid to us adults but they scare our kids and there a security risk . I read a couple of months ago about a man wearing a burka holding up a bank !!!
What happens with passports and driving licenses where a photo is needed is what id like to know .

Guest

Guest






---
Permissions in this forum:
You
cannot
reply to topics in this forum