By Andrew Gregory 17/05/2010
Rings torn off beaten Reeny, 88
Irene Barrett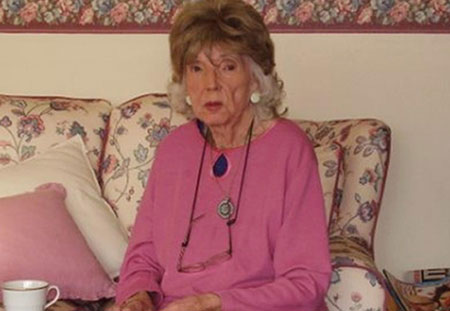 A housebound great gran was stabbed 16 times and beaten to death in her high-rise flat by robbers who ripped the rings from the 88-year-old's lifeless fingers.
Irene Barrett's 6am screams were heard by a couple of the neighbours she repaid for looking out for her welfare by knitting blankets for their children.
But one said: "We didn't have clue what it was all about. Now we are just so angry that this frail old lady who enjoyed being part of our community could be murdered in such a cowardly and brutal way."
The mutilated body of Irene, who was known to her many friends as Reeny, was found by her carers at 9.30am on Saturday.
The 40 police officers probing her "chilling battering and knifing" believe that she had been tricked into letting her callous killers into her 15th floor two-bedroom home in Charlton, south east London, some hours earlier.
Appealing for witnesses, senior investigator Det Chief Insp Cliff Lyons said: "There is clear evidence of a break-in and her rings, cash and other jewellery is missing.
"Whether she knew the perpetrators, was simply a trusting soul or whether they used force to gain entry is still a mystery.
"But what we do know is that she received a truly savage beating and stab wounds all over in what is one of the most violent murders I have ever come across. It's extremely sickening and disturbing."
Retired secretary Reeny - whose son, three grandchildren and six great grandchildren were last night still "completely devastated" - had lived in the tower block overlooking Charlton Athletic's Valley football ground from its building three decades ago.
She had been on her own since her husband died in 1990.
But close friend Dennis Burgess, 73, said: "Reeny enjoyed being part of the community.
Advertisement - article continues below »
EarthShare
"Despite only being able to get around her hallway on her walking frame, she was on the residents' committee and was active in our over-55s club. She was so cheery and pleasant and would always invite you up for a cup of tea or coffee.
"In return, the neighbours would look out for her and she could rely on us if she ever needed a lightbulb changing or any other little job doing for her."
Claire Pickett, 30, added: "She was a lovely lady. She used to knit blankets for premature babies and animals at Battersea Dogs Home.
"She even made a blanket for my baby. She was like a grandmother to all the young children."
As police continued to search the area for the murder weapon, John Moore 57, said: "We are all absolutely shocked and disgusted that this could happen to a darling woman who would do just about anything for anyone."
Gillian Phillips, 52, admitted wishing she'd acted when she heard "a high-pitched scream and commotion just after 6am".
But she went on: "You hear a lot round here and I didn't have a clue what it was. It's awful."
A 34-year-old man who lives on the third floor of the tower block was arrested in connection with the crime yesterday.
His wife insisted: "He had nothing to do with it because he was with me when it happened.
"We were just sitting on the grass outside the flats when five police officers jumped on him."
A woman aged 32 was held later and is also being quizzed.

EarthsAngel

Admin





Posts

: 1685


Join date

: 2010-01-25


Location

: District 9



How sad that the poor lady got to 88 and then so brutally murdered. I hope they catch the sub-human, filthy scum bag who savagely murdered the old lady. How can anyone do that to another human being> The world has gone mad. I hope whoever did this rots in hell, they should be put down like a rabid dog.

EarthsAngel

Admin





Posts

: 1685


Join date

: 2010-01-25


Location

: District 9



Absolutely horrifying isn't it? The police apparently described the scene like something out of a horror film.

El Guapo

Admin





Posts

: 2176


Join date

: 2010-01-25


Age

: 41


Location

: Seated in front of PC



Savage beating, repeatedly stabbed..Why? What defence could this poor old lady put up? Its truely sickening and horrific!! The person or persons that have done this are themselves savages! I hope they are caught soon and dealt with accordingly. Evil bastards!!


Dame Edna




Posts

: 641


Join date

: 2010-01-28


Age

: 66


Location

: Deep space 9.



Why are old people,still living on the 15th floor of a block of flats ?
surly the council could have moved her to a ground floor flat,so at least she could get outside the building.Or even move the oaps to a different home altogether.

When they catch the killers, they should take them back to the scene of the crime, and then fuck them off the balcony.
Let their last 5 or 6 seconds of life be one of sheer terror
before they hit the ground.

danmaspethny




Posts

: 48


Join date

: 2010-01-29



Poor Irene ,she must have been petrified . I hope the police catch the killer soon and give him hell .

Guest

Guest






---
Permissions in this forum:
You
cannot
reply to topics in this forum