AN Earth-like planet which could support human life has been discovered, scientists sensationally said last night.
The new world - 120 trillion miles away in another solar system - orbits its own sun and is three times the size of Earth.
Crucially boffins believe the "new planet" called Gliese 581 G has enough gravity to allow an atmosphere - and could have water on its surface.
Its relative closeness to the Earth makes it an important target for future space missions searching for extraterrestrial life.
Last night Professor Steven Vogt, of the University of California, Santa Cruz, said: "Our findings offer a very compelling case for a potentially habitable planet.
"The fact that we were able to detect this planet so quickly and so nearby tells us that planets like this must be really common."
Gravity
Prof Vogt added that the surface gravity would be about the same or slightly higher than Earth's, so a person could easily walk upright on the planet.
However the planet does not spin around, meaning one side is always facing its sun and basking in perpetual daylight.
And the other is in constant darkness because it faces away from the star.
The most habitable part of the new planet would be the line between darkness and light where the average surface temperature of the planet ranges between -24 and 10 degrees Fahrenheit (-31 to -12 degrees Celsius), boffins said.
Advertisement
Quantcast
Prof Vogt added: "Any emerging life forms on the new planet would have a wide range of stable climates to choose from and to evolve around, depending on their longitude."
The professor said two other planets had been previously detected in the same system, but one, known as planet c, was deemed too hot to be habitable and the other, planet d, too cold.
Prof Vogt said: "We had planets on both sides of the habitable zone - one too hot and one too cold - and now we have one in the middle that's just right."
The new "super-Earth" is named after its star Gliese 581 - a small 'red dwarf' about a third of the size of our Sun - and is twenty light years away from us in the constellation Libra.
The scientists determined that the planet has a mass three to four times that of Earth and an orbital period of just under 37 days.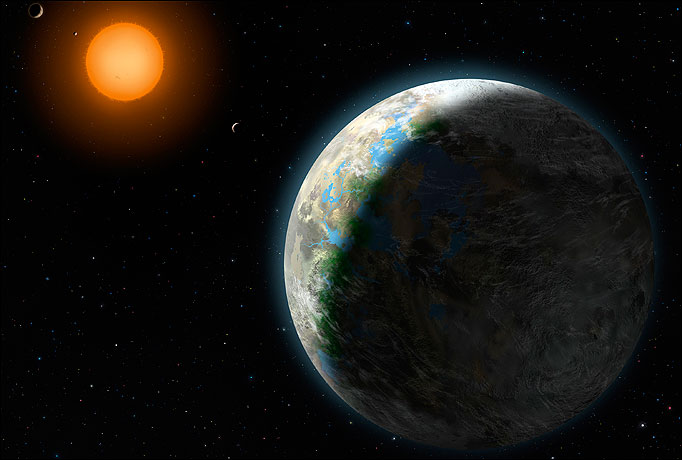 New find ... planet called Gliese 581 G has enough gravity to allow an atmosphere

EarthsAngel

Admin





Posts

: 1685


Join date

: 2010-01-25


Location

: District 9




EarthsAngel

Admin





Posts

: 1685


Join date

: 2010-01-25


Location

: District 9



Amazing!!

What's always struck me as a little odd though is the way in which the question of is there life on other planets is percieved.

Why does a planet have to be capable of supporting human life for it to be thought of as a planet capable of supporting life of some kind at all? Does that make sense?

What I'm trying to get at is that I think that there are planets which harbour life far different to our own, and therefore the enviroment they need to survive is totally different to Earth.

Just because a human's idea of life cannot survive on a particular planet does not mean no other form of life tailored to that environment cannot either...

El Guapo

Admin





Posts

: 2176


Join date

: 2010-01-25


Age

: 41


Location

: Seated in front of PC




---
Permissions in this forum:
You
cannot
reply to topics in this forum