Disabled mother, 36, beaten unconscious on bus by fellow parent after prams collide
By Matt Blake
Last updated at 5:23 PM on 7th December 2010
* No one has come forward with witness statements as police still search for attacker
A disabled mother was beaten unconscious by a furious parent after their prams collided on board a crammed bus.
Up to 80 fellow passengers did nothing as the 36-year-old woman, who was with her husband and three-year-old daughter, was knocked to the ground and had her head repeatedly slammed against the floor.
The mother, who suffers from auto-immune disease lupus, was left with head injuries and needing hospital treatment.
bus attacker
Police released CCTV in a bid to catch this man, believed to have beaten the mother unconscious in front of her three-year-old daughter
bus route number 85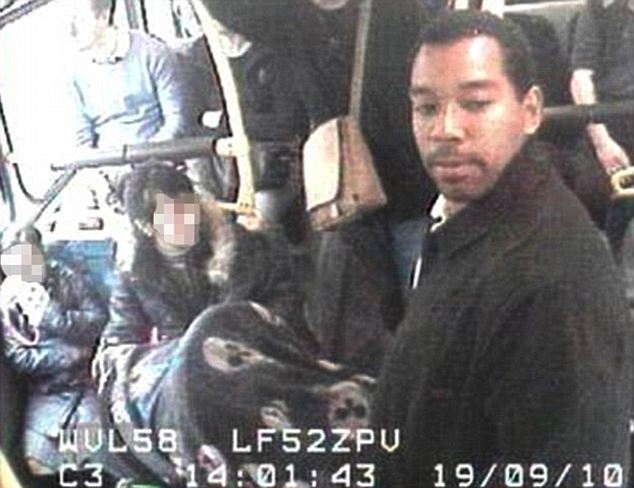 The woman was with her husband and three-year-old daughter on the number 85 bus when the attack took place
Unbelievably, a handful of passengers even laughed as they watched the man hurl a torrent of abuse before launching the sickening attack.
The woman's devastated husband, 32, said: 'My wife was a bloody mess on the floor and her glasses had been smashed into her head.
'When he was insulting her, people were sitting on the bus laughing.'
The couple, who did not want to be named for fear of their own safety, were on the Number 85 bus as it passed Kingston University's Surrey campus.
Their ordeal began when the man got on the bus and demanded that she make room for his child's pushchair.
But when she refused, he began shouting at her, calling her a 'fat b****'.
Her husband, who is also her full-time carer, told the Daily Mirror: 'The man started saying things about my wife and making very personal comments and insults.
'My wife was taken to hospital by an ambulance as she was knocked unconscious. He was slamming her head repeatedly on the floor while kicking her.'
Det Con Dave Norman said: 'Not one person stopped to give a witness statement and we have not had anyone come forward despite repeated appeals.'
Police are hunting a 5ft 10in black man, aged about 35, with short hair, who was last seen heading to Roehampton after getting off the bus on September 19.
A police spokeswoman said: 'He was wearing a dark puffa jacket with a white logo on the left breast area, dark trousers and was seen with a black Blackberry phone.
'He was accompanied with a 5ft 6in, large built, Mediterranean or Eastern European-looking woman about aged 35 years old, who had long dark brown hair in a pony tail.'
She said they were also with a mixed-race young girl.
Lupus is an autoimmune disease where the sufferer's immune system creates antibodies which attack their own body tissues.
Symptoms include extreme fatigue, joint pain, muscle aches and can result in the destruction of vital organs.
Anyone with information about the attacker should call Det Con Norman at Kingston CID, on 020 8247 4946, or Crimestoppers anonymously on 0800 555 111.
Read more:
http://www.dailymail.co.uk/news/article-1336445/Mother-beaten-unconscious-bus-fellow-parent-prams-collide.html#ixzz17SISPgPW

EarthsAngel

Admin





Posts

: 1685


Join date

: 2010-01-25


Location

: District 9



have you been on sol today ?....lol there is shit in the world everyday and it amazes me at the lack of good samaritans.....you like me couldn't stand by and watch that happen......you live with it in africa everyday....it's shocking .....if people have no soul or humanity IT'S NEARLY 2012....lets see what happens.....as individuals we can only try to be good people...we are all accountable...on the day of reckoning we will know....bless you angel x

chelseaz

Admin





Posts

: 473


Join date

: 2010-05-28


Age

: 88


Location

: bristol



Hi Chelz, it is unbelievable that not one person came to this poor womans aid! Even if it been 20 woman on the bus, they could have easily overpowered this prick and called the useless Cops.

I do live in a very violent country Chelz, most people carry guns, knives or some kind of weapon, even so, I would never sit back and watch anyone being beaten. It seems the UK has become a land of gutless wonders, how can anyone sit on a bus and laugh when a woman is being verbally abused? Then those same people watch her being beaten by some disgusting excuse for a man. I hope they catch him, but I doubt he will get what he deserves.I'll bet those people who sat and watched, did nothing to help, would be the first to call for help if they were in trouble, makes me sick to know that the UK has no real men or woman left...........all cowards, all out for themselves. I hope they perish in 2012..........or maybe it would be better if they tried to survive!

We are all accountable Chelz, and it seems some are less human than others. x



EarthsAngel

Admin





Posts

: 1685


Join date

: 2010-01-25


Location

: District 9



Try that up here, and as John Smeaton said ; " We'll set aboot ye"!


Madeinheaven




Posts

: 23


Join date

: 2010-07-05



Not really surprising but disgusting that no one did ANYTHING to help..... Sounds like that includes her Husband as well......



DarkLord




Posts

: 193


Join date

: 2010-07-06



Hi Maiden, its what they need! A good boot up the arse and a really good hiding so they will think twice next time they think of raising their fists to anyone. xxx


Hi DL, I also thought about the husband and what he was doing while all this was happening. I read that he was trying to help her and keep a little 3 yr old from seeing what was happening. The pushchairs were also stopping him from getting to her properly.

I just can't believe what is happening in the world.

EarthsAngel

Admin





Posts

: 1685


Join date

: 2010-01-25


Location

: District 9





Similar topics
---
Permissions in this forum:
You
cannot
reply to topics in this forum